I was in pain.  Heading into the Ocean Road 10K, I was doubting my bodies ability to handle 6 miles.  There was this voice, my inner cheerleader, telling me, "You can do it."  But, that nagging ache and pain in my left hip, honestly, had me worried.
My nagging hip nagged, it didn't scream, so I finished.  Not in the time I had hoped, but it was a good run.  From October to December, my running slacked.  I knew what had to be done.  I needed to balance out running with strength training if I really wanted to continue to run.  I contemplated my options.
Lucky for me, a new fitness joint was gearing up to open in town.  It was all about strength training.  I believed that this was it.  These classes were going to help me build muscle, which in turn, would allow me to continue to be a runner.
The 45 minute work out had me moving constantly.  I was encouraged to give 100%, to push myself  for that extra repetition, that extra 10 seconds.  Each morning, post workout, I was sore in places I never new I could be sore. Evidence that running was a 15 year habit that was working the same muscles mile after mile.  All the other muscles were screaming for attention.  My body was calling for balance.
Sunday morning's breakfast read was Vicki Vinton's latest blog post, Looking Forward to a Rebirth of Literacy Teaching and Learning.  Inspired by an invitation to present at a conference whose theme is Literacy Renaissance, Vicki, reflecting, also found herself wondering,  "If we're in or entering a Literacy Renaissance, what was our Classical Age and what were our Dark Ages?"  She categorizes the Dark Ages as those filled with data and mandates and accountability.  She goes on to explain, in her eyes, the Classical Age,  as a time when  teachers "took time to listen carefully to children, not just to find an opportunity to teach them, but to more deeply understand their thinking."  She references many who mentored me from afar – Donald Graves, Tom Newkirk, Ralph Peterson and Maryanne Eeds.
https://tomakeaprairie.wordpress.com/2018/01/21/looking-forward-to-a-rebirth-of-literacy-teaching-learning/
I was raised in the Classical Age.  I was raised to listen to children. I was raised as a teacher researcher.  It is ingrained in my practice to ask children "What were you thinking here.  What inspired you to…?"  I can't help myself during a writing conference or a read aloud to say "Tell me more."  Curiosity takes over.  I believe that the children often know more than we do and if we can just, honestly, shut up and listen, we will learn what they bring to the table, we will learn their stories and they in turn will know they matter – they will know their literacy lives are at the heart of our teaching and learning.
Vicki's piece had me reflecting not just on my 26 years as a curious teacher but also on this weeks "reads".
Danny Steele, an Alabama principal, tweeted: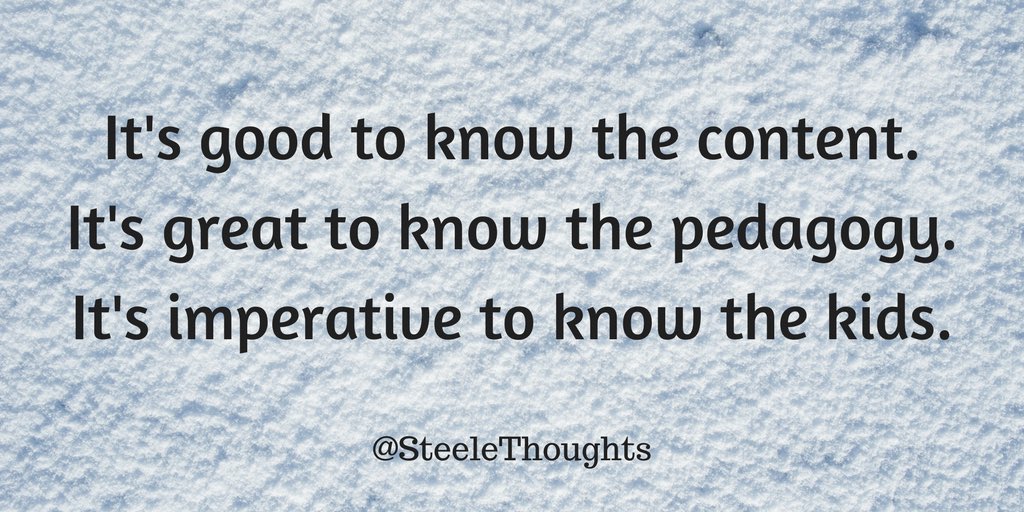 And The Writing Round Up this week featured this (inspired by Matthew Johnson's post "Relationship Based Writing")
"Establishing strong relationships between yourself and your student writers is important if we want our students to grow in writing, be willing to take risks, and be brave enough to share their words."  https://www.teachwrite.org/single-post/2018/01/21/The-Writing-Round-Up-12118
This week, I had the pleasure of facilitating Journal Workshop in two first grade classrooms.  Ben had chosen to observe the river out the window.  I watched him work.  He looked out the window, he looked at his journal.  He made marks on the page.  I walked by him 10 minutes into the workshop.  His journal page was his view of the river.  Ben came over to me 15 minutes in and said, "Here's my journal page."  To me it didn't look like much, honestly.  But thanks to my Classical Age experience, I engaged in conversation:
"Tell me about this."
"It's the Saugatuck River."
"What were you thinking or feeling as you worked?  What does it remind you of?"
"It reminds me of Daphne."
"Who is Daphne?"
"Daphne is my neighbors dog.  She died.  She loved the water."
His journal page:
I am thankful that our relationship was one where Ben was open to sharing his thinking.  His observation was so much more than an observation.  His observation led to a memory of dog who he clearly loved and missed.  I got to see the empathetic side of Ben thanks to his journal page.
I agree with Vicki Vinton. We are entering a Literacy Renaissance.  Even with unit driven curriculum, I see teachers who are talking to children about their work, not solely to make the writing or the reading better, but to understand the reader or the writers perspective.  Teachers are working to uncover the stories that each child holds.
I believe that teachers are not only seeking, but finding, the balance that will relieve the stress of covering curriculum and replace it with the joy of knowing children.